By Shelby Davis
Englewood, Colorado – July 2014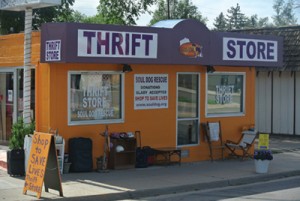 Soul Dog is a nonprofit animal rescue organization founded to spay/neuter and protect animals.  Soul Dog is proactive in animal welfare advancing the need for spaying and neutering pets to reduce overpopulation.  Volunteers travel to rural communities on Native American reservations where spaying and neutering only happens if it is nearly free and very convenient.  The store will help fund the clinics we conduct on the reservations.
The thrift store located at 4725 South Broadway, Englewood, CO 80113. At Soul Dog's Thrift Store, shoppers can explore aisles of gently used clothing, housewares, furniture, and more at great prices. Merchandise changes daily, so every day brings a new shopping experience. Soul Dog prides itself on quality merchandise, low prices, friendly staff, and a clean and comfortable shopping environment. Shoppers will find well displayed merchandise, organized shelves, and plenty of room to move about.
Donations of gently used, clean, and quality items are welcomed. There's definitely something for everyone at Soul Dog Thrift Store. Hours are 10:00 a.m. to 7:00 p.m., Tuesday through Saturday.
Soul Dog's Mission
Soul Dog's Mission is to humanely control the pet overpopulation problem through focused and aggressive spay/neuter programs in underserved communities.  To partner with the communities where we work, in order to create sustainable change through education and community buy-in.
After two months in business, we would like to thank everybody who has shopped, donated or supported the new thrift store! Some of the things we have been able to help pay for thanks to your support include:
Six additional transfers, with close to 200 additional lives saved; maintenance on our broken anesthesia machine, the lifeblood of our clinics, for $630; and, parvo treatment and hospitalization for two parvo puppies for $1,000!
Please continue to support the store! We will continue to do great things with the proceeds!
To learn more about Soul Dog, please contact Shelby Davis, Director, 720-939-2221, Shelby@souldog.org. You may also find us on the WWW at www.SoulDogRescue.org and Facebook (Soul Dog Rescue, Soul Dog Rescue & Humane Society Thrift Store).