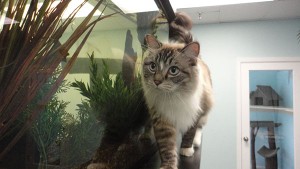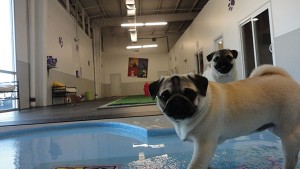 Photos courtesy of Lauren Hargesheimer
Welcome to Paradise! . . . Paradise 4 Paws that is. The award-winning pet resort for cats and dogs that first opened near Chicago's O'Hare Airport in 2008 will set Colorado tails a-wagging this holiday season as it opens at Denver International Airport. Located near DIA's Pike's Peak parking lot on 75th Avenue, the all-suite resort is open 24 hours every day of the year, offers discerning pet parent's airport parking with complimentary shuttle service to/from the terminal, and access to webcams.
Canine guests can choose from an array of all-suite accommodations with separate small and large dog areas. Select suites have in-room flat screen TVs and webcams and the Top Dog Suite even sports a full size human bed.  All canine guests enjoy play time in the spacious play areas with bone-shaped splashing pools – small dogs have their very own mini dog-bone-shaped splashing pool.
"We created Paradise 4 Paws to provide not only the best accommodations and care for pets but also the ultimate in service and convenience for pet parents." – Saq Nadeem, Top Dog
Feline guests relax in Bungalows with custom nooks and some with window seats.  For kitty playtime, they can romp in the Cat Adventure Jungle™ with climbing trees and an aquarium for their viewing pleasure.
Paradise 4 Paws caters every experience to the specific needs and requests of both pets and pet parents. A la carte options include treadmill training, outdoor hikes, and bottled water; and Spa & Grooming options include Massage Therapy, Pawdicures, and Spa Baths.
For pet parents, having 24 hour care from a well-trained and caring staff is key.  The webcam access, airport parking with complimentary shuttle to/from the terminal aren't anything to sniff at either.
To learn more about Paradise 4 Paws Denver or to make a reservation, visit their website Paradise4PawsDenver.com or give them a call at (303) 342-6996.  You can also stay updated on fun pet photos, company announcements and special deals at Facebook.com/Paradise4PawsDenver.
"There's a reason Paradise 4 Paws has been featured on The Today Show and won numerous awards. They are simply THE BEST." – Pet Parent