The Denver Dog reports
Photos by Spirited Images Photography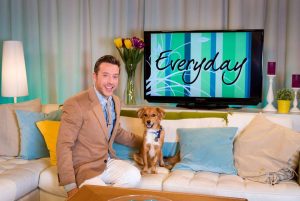 Chris Parente is the host of Colorado's "Everyday" show which airs each weekday morning at 10 AM on FOX 31 (KDVR). This show features a fun and off-the-wall look at the latest headlines, the hottest stories, and the biggest entertainment in Denver. Being a host of a popular television show keeps Chris very busy. When he isn't at work, he enjoys spending time with his dog, Hurley. Chris may be the host of the "Everyday" show, but it turns out that Hurley is the real television star.
Every year Chris volunteers with the Dumb Friends League co-hosting their annual "Pledges for Pets" telethon. Last spring, only moments after the broadcast had begun, Chris received a phone call from his partner. "There's a little guy on TV right now, he's the one!" The couple had been looking to adopt a shelter pet for a while, and from that first glimpse on TV, they were both hooked. There were dozens of adorable pets available for adoption, but there was something about Hurley's spirit that spoke to Chris. They adopted Hurley the next morning.
Chris is big supporter of animal shelters, rescues, and adoption programs. "I realize that pure breed dogs have their place, but I'll always go for the "pound puppy," Chris states. "If anybody is considering getting a new pet, I hope they'll first consider heading to their nearest shelter." Chris recently had a DNA test performed on Hurley. The test determined that Hurley is a Chihuahua/Pekingese mix.
Chris takes Hurley to Stapleton Dog Park every night. Hurley loves making friends with the other dogs and now has his own "posse" at the park. If you happen to run into them at the dog park, Chris requests that you don't tell Hurley he is a dog. "Hurley is convinced he is a human with a gland problem," Chris says. Hurley has been enrolled in training classes at Petsmart and has learned some amazing tricks. According to Chris, Hurley majored in "sit" and "stay" with a minor in "down", "spin" and "shake." He may have a future in the military because he can even "salute" on command.
Animals are a frequent topic on the "Everyday" show. The hosts have often debated about whether dogs are "our children" and whether they should be treated as members of the family. For Chris, there's no question. "For whatever joy I have found in life, it's only been multiplied by having Hurley. Pure love, pure loyalty, pure affection. He can sense when I'm in pain, he knows I'm happy, and his only desire is to please (and sometimes, to chew)!"
Colorado's Everyday Show Website: www.kdvr.com/category/on-air/everyday
Facebook: www.facebook.com/everydayshow