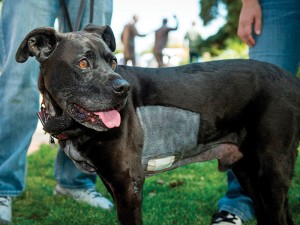 By Jeff Dodge,
Communications Coordinator
Department of Public Relations
Colorado State University
Photos Courtesy of Jeff Dodge
FORT COLLINS – A bomb-sniffing war dog that saved thousands of American lives in Iraq and Afghanistan has a new lease on life after heart surgery Sept. 16 at CSU's Veterinary Teaching Hospital.
Kay, a 9-year-old pit bull and Labrador mix, served two tours in Iraq hunting down improvised explosive devices. Then U.S. Army Spec. Brandon Donahue became the war dog's handler and grew devoted to Kay during three years of grueling bomb-detection work in Kandahar, Afghanistan.
Donahue adopted Kay in May 2013, after the soldier and dog finished their final tour of duty. Donahue and his wife, Brandi, wanted to give back to Kay after he had given them and others so much. They hoped to provide the retired war dog with a relaxed life at their home in Brighton, Colo.
But the Donahues learned that Kay has an inoperable heart tumor, a condition that some veterinarians told them would require euthanasia. The Donahues were undaunted in their desire to help Kay – and they found the help they sought with canine heart specialists and surgeons at CSU.
"He put his life in danger, sometimes more than I did," Brandon recalled of their military service. "It means the world that we were able to return the favor and help him out."
A video about Kay's story is available at http://col.st/8FQSi.
Brandon said the Taliban called Kay "the devil dog," not only because he was so effective at finding IEDs, but because the war dog's eyes turned a glowing reddish color in the desert's bright sunshine.
Bomb-sniffing war dog shows heart, gets veterinary care at Colorado State University