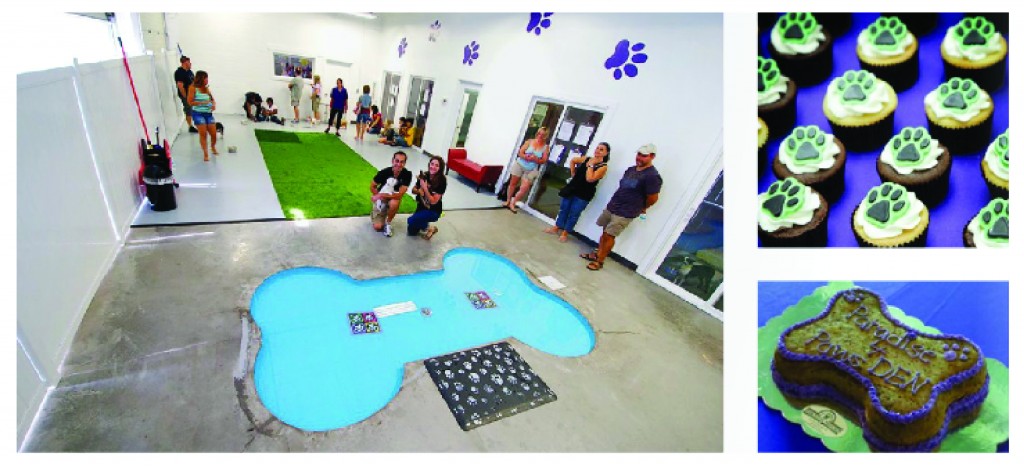 By Johanna Newcomb, Chief Barketing Officer at Paradise 4 Paw
Photos Courtesy of Johanna Newcomb

As more of us treat our pets like furry children, pet events and pet birthday parties have increased in popularity. Because our pet resort boasts large indoor play spaces, we have hosted many such events – from breed meet-up groups to birthday parties to fundraisers for pet organizations – and know what it takes to have an enjoyable and safe pet event.
Theme: First, your event must have a great theme. We have hosted a super hero party where all of the pups dressed as their favorite super hero. For a pup's seventh birthday, we had a Lucky 7 Vegas themed bash. We have had Paradise themed birthday parties with tropical treats, pet massage therapy and pawdicures, as well as Lucky Dog parties for St. Patrick's Day,
photos with Santa, ugly sweater holiday parties, and the list goes on. If you can include a pet rescue or other charitable organization as part of the event, even better. Once you have selected your theme, then you select the decorations and food accordingly.
Food: For dogs, we have served doggie ice cream for an ice cream social and doggie cake in all shapes and sizes to fit the theme. For humans, you must keep in mind that you will need something that is easy to eat with one hand since the other hand may need to be petting your pooch. And all human food should be safe for pet consumption in case someone sneaks snacks from the table.
Safety: The most important rules are to know your pet and continually supervise him. You know your dog better than anyone else. You can tell when he is enjoying himself and when he is becoming stressed. If he is showing signs of anxiety, give him a break from everything and then try returning to the festivities or changing to another activity you know he enjoys. Additionally, it is important to always monitor your pet because, even if your dog is well-behaved, not every other pet guest is.
Photography: Make sure you assign someone to take photos so you can capture every adorable moment!
Paradise 4 Paws play areas can be rented for pet fundraising events, meet-up groups, and dog birthday parties. Email Pawcierge-DEN@paradise4paws.com or call 720.506.9800 for more information or to book your next event. www.Paradise4PawsDenver.com