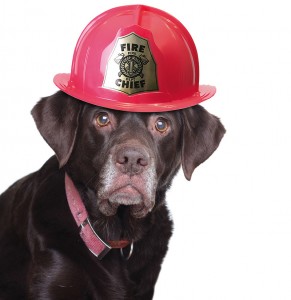 The Denver Dog reports
According to the United States Fire Administration, an estimated 500,000 pets are affected by fires each year. There are many things that you can do to help prevent your pet from becoming a victim of a fire.
Have an evacuation plan
The best way to protect your pets from fires is to include them in your family plan. Have a plan to get your pets out of the house quickly in the event of a fire. Dogs are typically easier to get out of the house than cats because they typically come when called. Create a plan that will work for all of the pets in your family. You should also arrange for a safe place for your pets to stay in the event you need to leave your home. Check to see if your local veterinarian offers boarding or if a friend or family member would be willing to watch over them in their home.
Prevent your pet from starting fires
The National Fire Protection Association estimates that nearly 1,000 home fires each year are started by the homeowner's pets. Pets are generally curious and will investigate flames on stoves and even in fire places. You should never leave your pets alone near open flames. It is recommended to only use flameless candles in homes with pets. Cats often accidentally begin fires when their tails come in contact with the flame of a candle. You should secure young pets while unattended to prevent them from coming in contact with potential fire hazards.
Help Firefighters Save your Pets
When leaving pets alone, keep them near the entrance of the home to aid firefighters in rescuing them. Leaving leashes and crates at the ready will also aid firefighters in getting your pets out of the home quickly. Affix a pet alert window cling in the front window of your home so firefighters know what pets to look for inside the home. You can obtain a free sticker from the ASPCA. Visit www.aspca.org for more information.