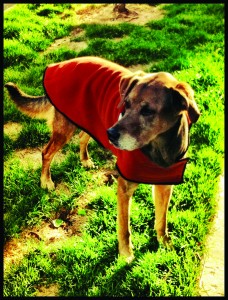 Photos courtesy of Fran Blum
MountainMuttDogCoats Boulder was inspired by Fran Blum's dog Mac.  Mac was diagnosed with bone cancer in October 2009.  Following surgery, Fran bought and returned several coats that didn't fit around Mac's deep chest. The fabrics really weren't that warm either. She had a leather coat made for him lined with warm fleece which got Mac through that very cold winter.
Fran spent the following winter researching fabrics for the best possible winter coats. Mac's coat became the prototype for the MountainMuttDogCoat patterns.  In the spring of 2011,  she and Denise Rhoades, who makes all the MMDC gear, designed and field-tested coats to achieve maximum coverage. When Sheila, Fran's German Shepherd couldn't run out of a coat they knew they had a winner.
The mission of MountainMountainMuttDogCoats Boulder is to provide warm, weather resistant coats for dogs during harsh Colorado winters. Their goal is to offer the warmest, driest, most wind-proof dog coats to dogs living in cold, wet and windy climates. MountainMutt's coats are handmade from high-quality technical fabrics. They are exceptionally lightweight, warm, wick away unwanted moisture, dry quickly, repel wind and water.  MMDC has translated the same outerwear fabrics you wear when biking, climbing, snow-shoeing, skiing into garments for your canine companions. MMDC also makes leather coats which are also lined with technical fleeces.
Fran says MMDC's motto is "fit is everything".   MMDC's coats are generously cut and are made with the dog's comfort in mind. The designs are dog friendly: no seams on the along sensitive backbone or tummy area, darts  shape the coat around the hips, collars to protect the sensitive neck area.  They have lots of adjustment too. Fran says that at present they're worn by dogs from New York to Alaska. In Colorado they are worn by members of the Rocky Mountain Dock Diving Team, including Otis of Team-O-Dog, 2013 Senior Division World Champion.
MMDC makes coats in six sizes and custom. Their service includes alternations to improve fit.
For more information, visit: www.mountainmuttdogcoats.com or call 303-527-0850