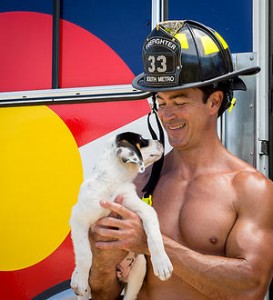 A love of animals is something that comes naturally for local pet photographer, Amy VanDerBroek. Having grown up in a house with a myriad of animals, including dogs, ferrets, guinea pigs, and birds, it came as no surprise when her interest in pets extended beyond her own lovable companions. As a way to both gain experience in photographing animals and give back to her community, Amy sought out local rescues in the area that could use a little boost to their adoption photos in order to increase the chances that these animals would find their forever homes.
One such rescue that answered the call was Lifeline Puppy Rescue. Located in Brighton, Lifeline has been in operation since 1993 and rescues over 1200 puppies a year from all over the Rocky Mountain region. After months of making weekly visits to the rescue for adoption photo sessions, Amy saw how much work and effort it takes to run and maintain a successful rescue and wanted to help raise funds to keep the rescue going for many years to come.
An important aspect of being a responsible pet owner is pet safety, something Lifeline wanted to emphasize with their fundraising calendar as well. When the idea to feature firefighters came about, a profession familiar in both helping rescue those in need, and providing safety education to those in their community, it seemed a natural fit. Sponsors dedicated to helping firefighters and other first responders rescue pets in emergency situations, including Pet Emergency Education, LLC and The Emma Zen Foundation, also helped create awareness of the importance of pet safety throughout the calendar.
This may be the first year for the Fire Rescue Dogs Calendar, but with its initial fundraising success, it certainly won't be the last. As project manager for the calendar, raising funds to help maintain Lifeline Puppy Rescue was certainly a goal of Amy's, but seeing the increase in adoptions that have occurred since the creation of the calendar, including three of the featured firefighters adopting the puppies they were photographed with, has been the greatest achievement for this project so far.
To bring home your own copy of the 2016 Fire Rescue Dogs calendar and help save the lives of Colorado puppies in need please visit www.firerescuedogs.com