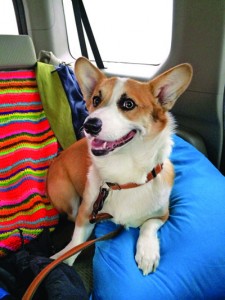 By Carolyn Daughters
Few dogs can claim as big a fan base as Denver Picard. The corgi has his own product line, has been featured in travel guides, and has received several awards (and recognition from Congress).
Try to walk by I Heart Denver Store without stopping in. It's pretty hard to do. While the store's eye-catching displays and local artwork and design draw plenty of shoppers, it's almost impossible to pass by the adorable dog in the window without saying hello.
That adorable shop dog is Denver Picard, a Welsh Pembroke Corgi, and he's becoming a bigger local celebrity with each passing day. Named for owner Samuel Schimek's love of the Mile High City and all things Star Trek, the photogenic Denver Picard is quite the charmer. (He even has his own Tumblr and Pinterest.)
Denver serves as the Denver Pavilions mall mascot and the official ambassador at Schimek's I Heart Denver Store, and it's a job he takes pretty seriously. He greets patrons as they enter the store, then jogs along by their side. Patrons see him as an energetic and joyful shopping companion.
Denver Picard is known to deck out in orange and blue for Bronco's games, dress up for zombie fashion shows, strut about in his Captain Colorado sash, and don neckties and bowties (and a crown for the Queen's Diamond Jubilee). Suffice it to say that Denver Picard has had his share of photo shoots.
He was recently featured in the Moon Handbook for Denver and in an article in Alive Magazine. He also won Visit Denver's Go the Extra Mile Award and received a letter from Congresswoman Diana DeGette, who congratulated him on being named Best Shop Dog in Westword's Best of Denver 2012.
Denver Picard has a line of products in the store – including artwork, magnets, postcards, and buttons – and they all sell really well. How could they not, what with his being so darn cute? He's even immortalized in a Denver Picard felting kit made by Fancy Tiger Crafts. Not in the mood to sew? Simply pick up a Denver Picard plush toy at the store made by CHM Design.
That means that one way or the other you can take Denver Picard home with you. After all, shouldn't everyone share in the corgi fun?
For more information:
Pinterest: pinterest.com/iheartden/denver-picard-schimek
Tumblr: denverpicardschimek.tumblr.com
Website: iheartdenver.info