Last September, Eric and Jessica Decker launched their foundation, Deckers Dogs, to provide needed service dogs to returning military veterans with a service-connected disability. As products of families who have served and continue to serve our country – and avid animal lovers – the Deckers believed this was a perfect fit for them. Freedom Service Dogs work exclusively with rescued dogs, which have the same success rate as dogs bred for service.
The Deckers Dogs Foundation will assist in funding the rescue, care and training of service dogs at FSD.
Due to the generosity of the foundation's first members and several donors, the first Deckers Dog, Rommy, graduated on December 14, 2013 with military veteran, Shon Wilson, who was a part of both the Army and the Navy, serving several tours of duty.   He returned home with Post Traumatic Stress Disorder (PTSD).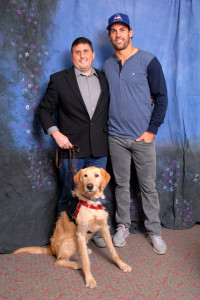 Rommy is a handsome Labradoodle from the Colorado Prison Trained K-9 Companion Program (PTKCP).  His scruffy face seems to always have a smile.  The team at FSD described him as a bit of a mischievous clown who is a pro at making people laugh.  Shon's first couple of months with Rommy have included a lot of laughs.  He's making an enormous difference in Shon's life. "Rommy and I are becoming an inseparable team," said Shon. "I wake up each morning with a new joy and with the thought of what fun Rommy and I are going to have. He is taking me to a whole new level of community. He in his own way has become a celebrity in our area. People have found out that he is the first Deckers Dog and want to meet him. The acceptance of him around here has lowered my anxiety because in some way I feel accepted also."
Rommy spent almost a year in training, learning over 50 commands and can perform specific tasks such as post, block and retrieve.
Each graduated Freedom Service Dog costs approximately $25,000 to feed, house, medically care for and train, a process that can take up to a year.  Each and every Deckers Dogs membership goes directly to train another dog.
Over the course of the past 6 months, the Deckers have participated in many fundraising events to gain more funding.  As of this printing, another Deckers Dog has been funded and the foundation is well on its way to a third graduating by June, 2014. Please join us in support of Deckers Dogs and Freedom Service Dogs so we can "Free a Hero to Save a Hero."
Sign up for this exclusive club at DeckersDogs.org for a $25 donation.  You'll receive a Deckers Dogs T-shirt, a letter from Eric and Jessica Decker, news about events, and updates on dogs graduating through this program.