By: John Davidson, December 20, 2012
http://www.examiner.com/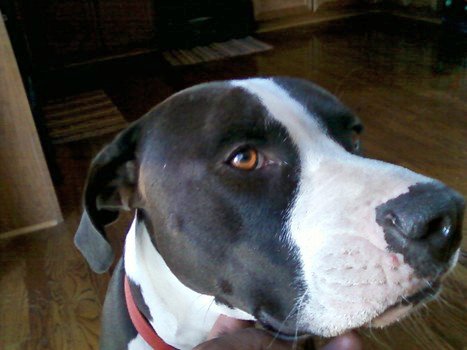 Chole was shot to death in a Nov. 24 incident.
Credits: Gary Branson
The Adams County District Attorney's Office said today that a Commerce City police officer who shot and killed a dog in a controversial Nov. 24 incident will face charges.
Commerce City Police Officer Robert Price was charged with aggravated cruelty to animals, a class-six felony.
The shooting touched off community outrage because a neighbor videotaped the shooting and the dog, at least initially thought to be a pit bull mix, did not appear to be threatening anybody.
Price was among several officers who went to a home in the 9600 block of Nucla Street to check out a report of an aggressive dogrunning loose in the neighborhood. Ananimal control officer also responded.
Price shot and killed the dog named Chloe after he says the animal showed threatening behavior. Commerce City Police asked the DA's office to do an independent investigation.
That probe will continue to look at other aspects of the case, the DA;'s office said today.
KOA radio reported that DA's investigators went the extra mile by attending a necropsy of the dog at CSU with a forensic pathologist who's an expert in gunshot wounds.
Commerce City officials said Price has been placed on administrative leave and they have asked the Douglas County sheriff's office to determine if any city policies have been violated.
An attorney who represents the dog's owner, Gary Branson, said the charges against Price are "entirely appropriate."
Jennifer Edwards of the Animal Law Center in Westminster said she will continue to move forward with the case, although no lawsuit has been filed yet.
Despite early reports about Chloe being a pit bull mix, Edwards is still convinced the dog is mostly a Labrador Retriever. She believes police are guilty of "visual bias."
Commerce City law bans pit bulls in the city.
Branson, a Pueblo resident, left Chloe with a relative when he traveled to California for Thanksgiving and the dog managed to get out of the relative's garage.
A neighbor, who first reported the dog running free, said from what he saw and from what the video of the incident shows, the dog was simply trying to run away scared.
"I totally disagree with it, totally," Kenny Collins said. "The dog was not attacking people, and that's not what I said when I called 911." Collins' son shot the video.
Meanwhile, people protesting the shooting of Chloe have continued to protest and speak out in Commerce City and to gather online signatures calling for justice in Chloe's case.
Read the original article: www.examiner.com/article/commerce-city-officer-charged-controversial-shooting-death-of-dog/